Welcome Vintage Coach Purse Fans! I'm sooo happy to be here with another Vintage Coach Purse Gallery!! These purses are just so awesome, they are cooler than cool - hehe. : )
Think you'll agree that the quality of these older Coach bags are unsurpassed and they have both a high fashion, yet simplistic look to them. So, without much more adieu, here are some I really love...
This bag is a pretty large one, so if you are liking lots of room in your bag...this is for you! Made in 1990, it's a beauty.
And, if you are looking for a nice tablet briefcase, this UNISEX briefcase should hold a tablet and lots of papers, too.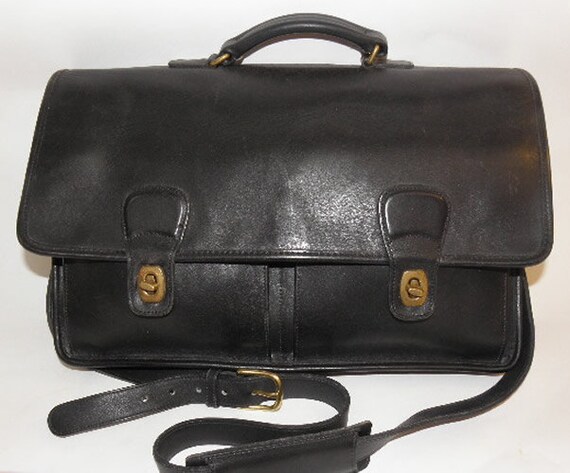 Vintage Black Coach Organizer Briefcase - SOLD
And, this black leather one from 1992 has the coolest brass buckles...looks very sexy with many different outfits...
Vintage COACH Black Shoulder Bag BRASS BUCKLES (1992) - SOLD



This RARE Saddle Bag Style Coach Bag (late 1980's) is a gem!...
Made in New York City in the seventies, this exquisite vintage Coach Leatherware bag is gorgeous! The bag is marked inside "Leatherware", a special characteristic of these NYC '70's bags. In a rare rust color, it would look great with fall fashions.
New York City Coach Leatherware Purse (1970's) - SOLD
Whew!...what a dizzying collection of bags to go through AND there are many more. So, maybe this will go into Part VI, lol?!
Well, hope you enjoyed looking at all of these beautiful bags.
Until next time.... CHOW!! : )
| | |
| --- | --- |
| | |
| | |
| | |